On 18/09 HCMC Department of Science and Technology to conduct acceptance test production project "Design, fabrication of robotic welding lines fillet weld using MIG welding machine" by Dr. Nguyen Tan Tien (Center Facilities design and manufacture of new equipment) as chairman. The project is a continuation and finalization robotic welding line made in projects RD 2006 to serve the shipbuilding industry.
The robot consists of 8 sections: a guide mechanism, welding torch, hands sliding and rotation, drive motor, control box, the handle, the robot body, wheels.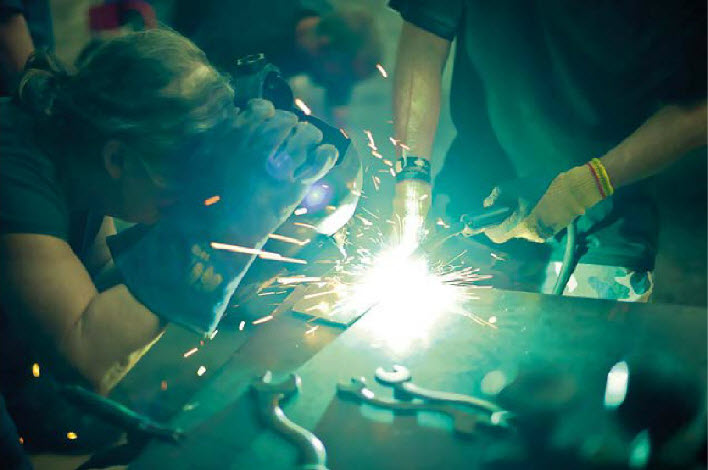 Welding robots are tested in welding material is 6mm and 8mm thick iron plate with welding machines MIG / MAG, CO2 shielding gas, electrode diameter 1.2 mm at Saigon Shipbuilding Enterprise. By imaging radiation SWSI inspection techniques, inspection methods from (MPI) standard test V ASME, ASME VIII gauge, shows that high quality welds, no play disabilities.
Thus, mobile robot welding line of fillet weld using MIG welding machine with high feasibility, stable operation, meets the test requirements on the quality of shipbuilding industry (guaranteed the thickness of the weld, the weld up all the edges and along the length of the weld, bloodshot, weld error is within allowed).
The outstanding advantage of the robot is guided operating structure well, the controller is designed to be simple but the quality of the welds on the mature, steady and stable. Thus welding robots have similar features the same type of welding robots manufactured by foreign countries, but lower cost, consistent with domestic manufacturing capabilities.
Dr. Le Minh Quoc (Deputy Director of the Department of Science and Technology, Chairman and acceptance), said that the project is feasible and has very close proximity to become salable. The project will be transferred to the fund to support the city's science and technology to production deployment.